THIOLA EC 300 mg may allow you to take up to 66% fewer pills
Larger dosage strength—300 mg—may help reduce pill burden.
Available in 2 dosage strengths—100 mg and 300 mg.
Freedom to take your dose before, during, or after meals.
$0 copay for eligible, commercially insured patients.*
*See full Copay Terms and Conditions.
71% of patients stopped making cystine stones
THIOLA may help manage recurring cystine stones
THIOLA was studied in 66 patients with cystinuria and a history of forming stones. In 17 patients without prior d-penicillamine therapy:
71% stopped making stones
94% reduced the rate of making stones
Increased fluid intake, urine alkalization, diet modifications, and THIOLA EC together may help prevent stone formation
THIOLA EC works fast to help lower cystine levels
Keeping your cystine level below its solubility limit (generally <250 mg/L) is important in managing cystinuria.
THIOLA EC starts to work on the first day to lower cystine levels.
THIOLA EC contains the active ingredient, tiopronin, in a delayed-release formulation.
In the small tubes of the kidney
In cystinuria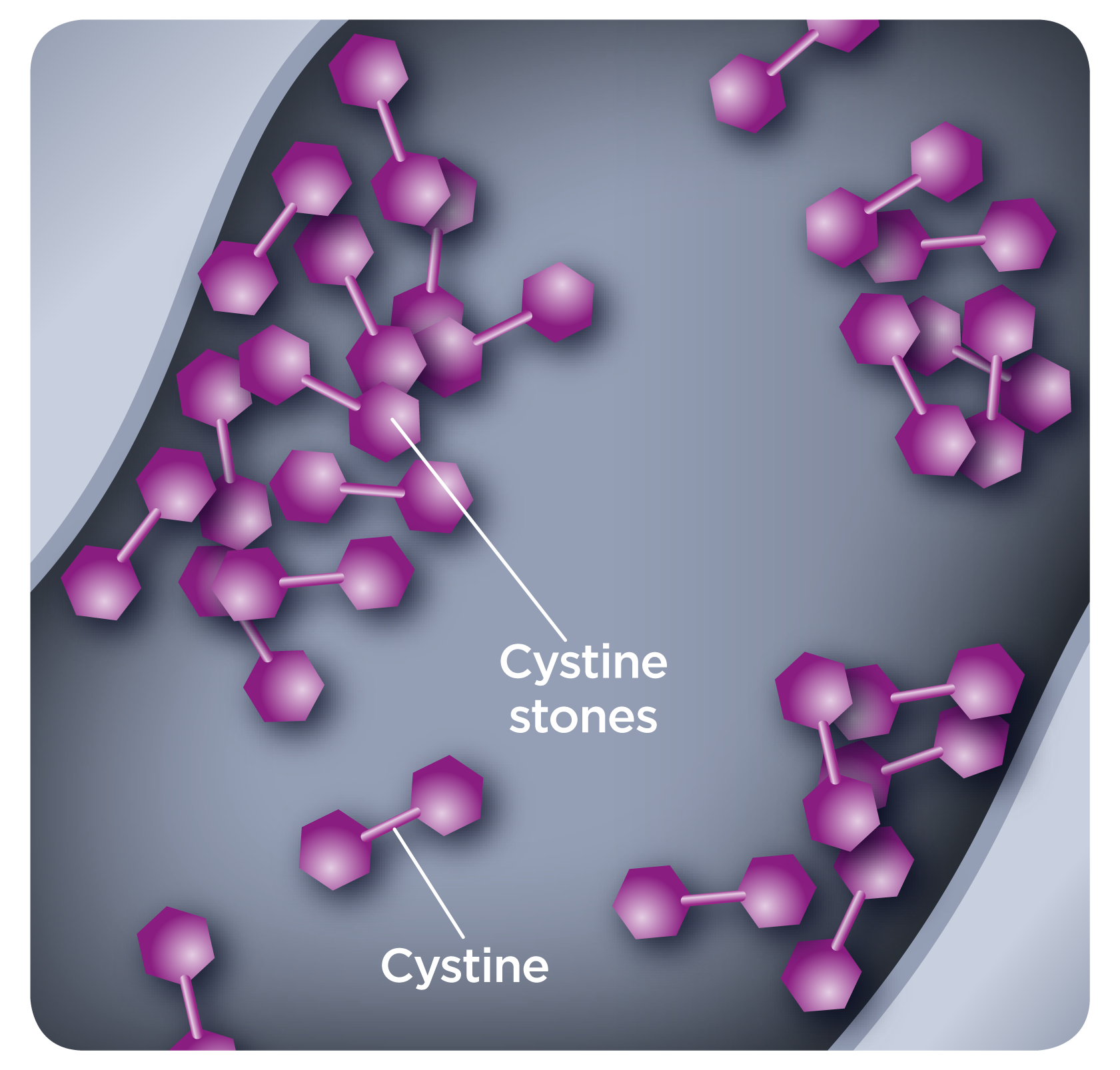 Cystine does not dissolve well in the urine. High levels of cystine lead to cystine stone formation.
With THIOLA EC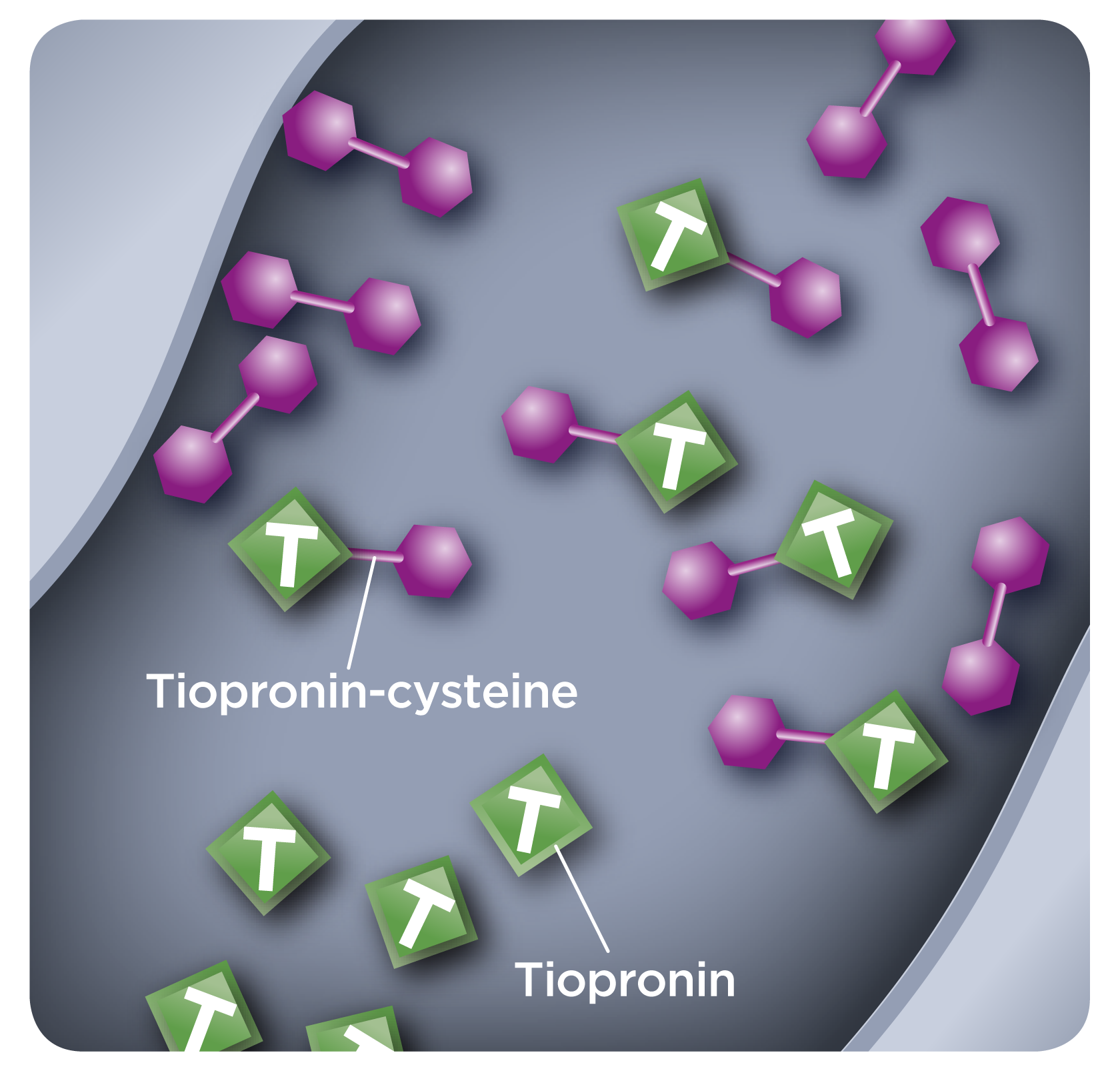 The active ingredient in THIOLA EC, tiopronin, attaches to cystine to become a new compound called tiopronin-cysteine, which dissolves more easily.
THIOLA EC can be taken when it's right for you
THIOLA EC offers flexible dosing options
Larger dosage strength—300 mg—may help reduce pill burden.
Available in 2 dosage strengths—100 mg and 300 mg.
Freedom to take your dose before, during, or after meals.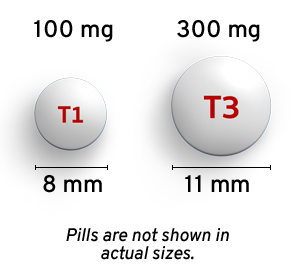 Doses should be taken in 3 divided doses per day, at the same times each day.
A routine pattern should be maintained with regard to meals.
Taking your dose with food may decrease the effect of THIOLA EC by approximately 25%. Talk to your doctor.
THIOLA EC tablets must be swallowed whole.
Your doctor should adjust your dose of THIOLA EC based on the results of a 24-hour urine test.
THIOLA EC dosage should be based on the amount required to bring your cystine level below its solubility limit (generally <250 mg/L).
THIOLA EC 300 mg may allow you to take up to 66% fewer pills
Find the THIOLA EC dosage that's right for you
THIOLA EC starting dose
Measure response with 24-hours urine test
Adjust dose
In adults
800 mg/day

In children ≥20 kg
15 mg/kg/day
• Measures the amount of cystine in your urine

• Helps your doctor determine an appropriate treatment plan

• Should be done 1 month after starting THIOLA EC and repeated every 3 months to help track or monitor your cystine level
• Your dosage of THIOLA EC may need to be adjusted to lower your cystine level

• Still forming stones? Talk to your doctor about adjust in your dose
In clinical studies, the average adult dosage was about 1000 mg/day
It is important to remember to continue drinking more water, reducing your protein and sodium intake, and taking medications to adjust the pH of your urine while taking THIOLA EC. Once you start treatment, your doctor will schedule regular visits and ask you to perform 24-hour urine collections to monitor your cystine level.
Your doctor may discontinue THIOLA EC if you develop high amounts of protein in your urine and will monitor your urine and kidneys. Your doctor may consider restarting treatment at a lower dose once your urinary protein level is no longer a concern.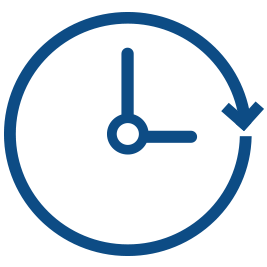 After being on THIOLA EC for 1 month, your doctor will ask you to perform a 24-hour urine test to evaluate your cystine level and determine necessary dosing adjustments.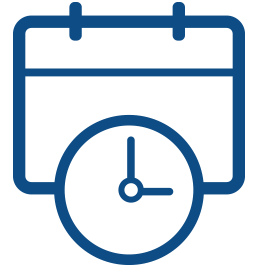 Your doctor should ask you to perform a 24-hour urine test every 3 months thereafter to continue monitoring your cystine level.
Take an active role in your cystine stone prevention by sticking to your treatment plan and regularly monitoring your cystine level.
Important Safety Information
What is THIOLA EC® (tiopronin) delayed-release tablets?
THIOLA EC delayed-release tablets is a prescription medicine. It is used in combination with high fluid intake, alkali (low acid), and dietary changes to help prevent the formation of one type (cystine) of kidney stones in certain adult and pediatric patients that weigh at least 44 lbs (20 kg) and who do not respond to these measures alone.
Who should not take THIOLA EC?
THIOLA EC should not be taken if you:
are allergic to THIOLA EC, or any of the ingredients in THIOLA EC.
What should I tell my doctor before taking THIOLA EC?
THIOLA EC may not be right for you. Before taking THIOLA EC, tell your doctor about:
all health conditions you may have and any medications you may be taking.
if you are pregnant or plan to become pregnant.
if you are breastfeeding or plan to breastfeed.
What should I avoid while taking THIOLA EC?
You should avoid drinking alcohol 2 hours before and 3 hours after taking THIOLA EC.
What are possible side effects of THIOLA EC?
Serious Side Effects: THIOLA EC can cause proteinuria (high amounts of protein in urine), including serious kidney problems, and hypersensitivity reactions (including fever, rash, joint pain and enlarged or swollen lymph nodes).
Most Common Side Effects: Nausea, diarrhea or soft stools, sores in the mouth, rash, fatigue, fever, muscle or joint pain, high amounts of protein in urine, vomiting.
These are not all the possible side effects of THIOLA EC. Call your doctor for medical advice about side effects.
You may report negative side effects to Retrophin® Medical Information at 1-877-659-5518, or to the FDA at 1-800-FDA-1088 or www.fda.gov/medwatch.
Please see full THIOLA EC Prescribing Information.